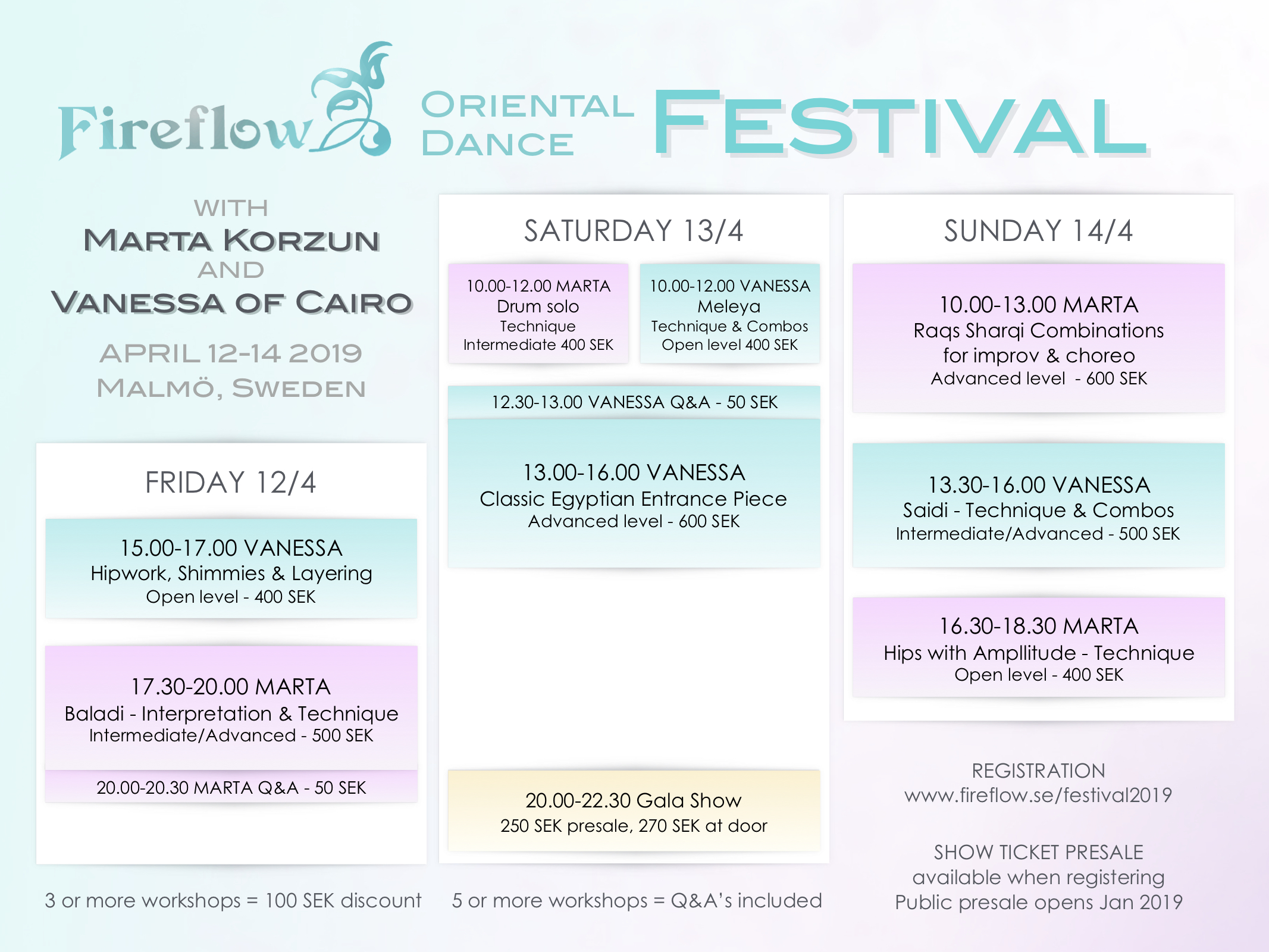 Venue
Kulturfabriken, Annelundsgatan 55b Malmö
Schedule & pricing
Workshop 1 – Friday April 12 – 15.00-17.00
VANESSA – Hipwork, Shimmies & Layering – Technique
 – Open level
Price: 400 SEK
Workshop 2 – Friday April 12 – 17.30-20.30
MARTA – Baladi Interpretation & Technique – Intermediate/Advanced
Price: 500 SEK
Q&A with MARTA – Friday April 12 – 20.30-21.00
Price: 50 SEK
Workshop 3M – Saturday April 13 – 10.00-12.00
MARTA – Drum solo Technique – Intermediate level
Price: 400 SEK
Workshop 3V –Saturday April 13 – 10.00-12.00
VANESSA – Melaya – Technique & Combos – Open level
Price: 400 SEK
Q&A with VANESSA – SATURDAY April 13 – 12.30-13.00
Price: 50 SEK
Workshop 4 –Saturday April 13 – 13.00-16.00
VANESSA – Classic Egyptian Entrance Piece – Advanced level
Price: 600 SEK
Workshop 5 – Sunday April 14 – 10.00-13.00
MARTA – Raqs Sharqi Combinations for Improv & Choreo – Advanced level
Price: 600 SEK
Workshop 6 – Sunday April 14 – 13.30-16.00
VANESSA – Saidi – Technique & Combos – Intermediate/Advanced level
Price: 500 SEK
Workshop 7 – Sunday April 14 – 16.30-18.30
MARTA – Hips with Amplitude – Technique – Open level
Price: 400 SEK
"Open level" = 2-3 years of experience and up (no beginners)
Package pricing
3 or more workshops = 100 SEK discount
5 or more workshops = both Q&A's included
For registration to be confirmed 50% of the total amount needs to be paid within 5 days after your receive your invoice. Payment can be made via Swish (for Swedish residents), via PayPal or via bank transfer.
If you haven't recieved a reply from us within 7 days after submitting your registration: 1) check your spam folder, 2) if you do not find our email there contact us on info@fireflow.se.
Full payment is due by February 28 2019.
Registration is binding. Refunds can only be made if you can show a doctor's signature.