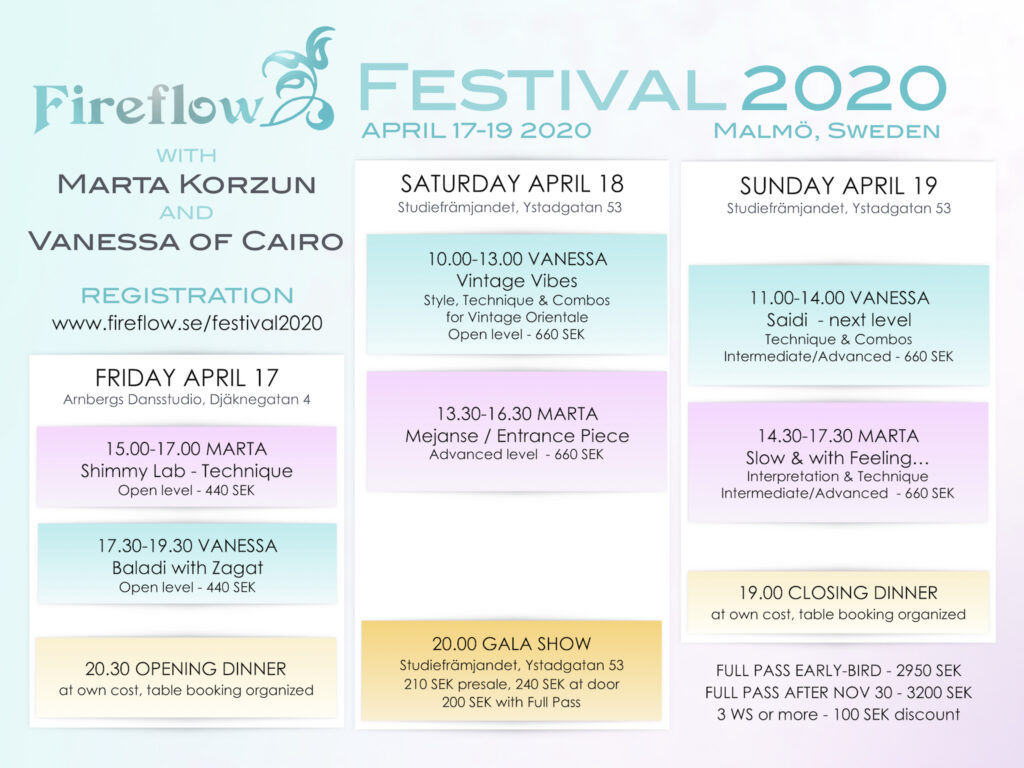 Venues
Friday – Arnbergs Dansstudio, Djäknegatan 4 Malmö
Saturday & Sunday – Studiefrämjandet, Ystadgatan 53, Malmö
Schedule & pricing
Workshop 1 – Friday April 17 – 15.00-17.00
MARTA – Shimmy Lab – Technique – Open level
Price: 440 SEK
Workshop 2 – Friday April 17 – 17.30-19.30
VANESSA – Baladi with Zagat – Open level
Price: 440 SEK
Workshop 3 –Saturday April 18 – 10.00-13.00
VANESSA – Vintage Vibes – Style, Technique & Combos for Vintage Orientale – Open level
Price: 660 SEK
Workshop 4 – Saturday April 18 – 13.30-16.30
MARTA – Mejanse /Entrance Piece – Advanced level
Price: 660 SEK
Workshop 5 –Sunday April 19 – 11.00-14.00
VANESSA – Saidi – Next level – Intermediate/Advanced level
Experience with dancing with Assaya is required.
Price: 660 SEK
Workshop 6 – Sunday April 19 – 14.30-17.30
MARTA – Slow & with Feeling… Interpretation & Technique – Intermediate/Advanced level
Price: 660 SEK
"Open level" = 2-3 years of experience and up (no beginners)
Package pricing
3 or more workshops = 100 SEK discount
FULL PASS Early-bird (until November 30) = 2950 SEK. Must be paid in full upon registration.
FULL PASS after Nov 30 = 3200 SEK. Can be paid by 50% deposit, remaining amount by Feb 28 2020.
Registration
Registration for Fireflow Festival 2020 (form on this website)
Gala Show – Saturday April 18
Tickets for the Gala Show on Saturday, April 18 are sold separately, but if you register for a Full pass for the festival you have a presale option for 200 SEK, that you can choose & pay when you register.

Public presale opens in January 2020.
Presale 210 SEK, at door 240 SEK.

More information about the Gala Show will posted in the coming months.