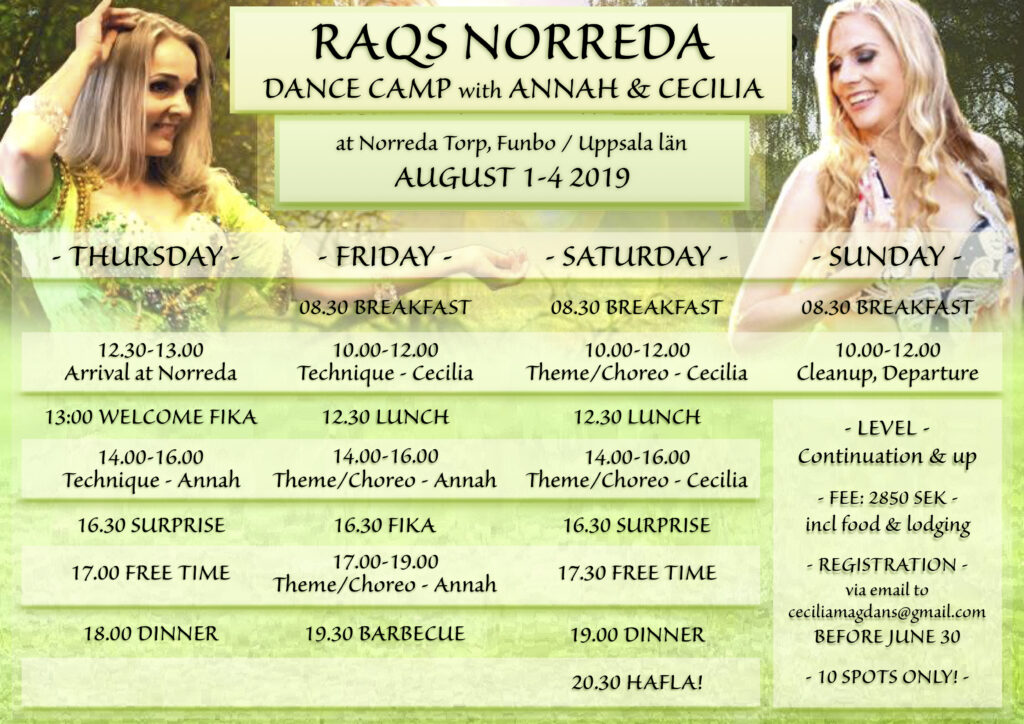 Welcome to Raqs Norreda – a bellydance bootcamp with Annah of Sweden & Cecilia Esbjörnsson / Magdans by Cecilia, in the beautiful countryside just outside Uppsala, Sweden.

12 HOURS OF DANCE CLASSES on continuation level & up. 10 SPOTS ONLY!
DATES: August 1-4 (Thursday-Sunday)
VENUE: Norreda Torp, Funbo (outside Uppsala). We arrange pickup to/from the nearest bus station for you who travel by train/bus.
THEMES:
CECILIA
– Travelling steps Technique, 2 hours
– "Tak Tak Dum" Upbeat Egyptian Song, 4 hours
ANNAH
– Shimmy Express (Technique), 2 hours
– Impro Lab – Tools for Improvising to Arabic Music, 4 hours
There will also be plenty of free time to enjoy the nature, take a dip in the nearby lake or just relax.
PRICE: 2850 SEK, including food & lodging from Thursday 13 pm to Sunday 12 am.
All meals are vegetarian, with vegan options.

REGISTRATION & PAYMENT: Register via email to ceciliamagdans@gmail.com, + by paying a minimum of 1000 SEK immediately after recieving an email response. Please include information about any allergies or other meal restrictions when you register.

Remaining amount must be paid so that we have recieved it by June 30 at latest. After June 25 only payments via Swish are accepted.
Deadline for registration = June 30.
Registration is binding, refunds are only possible when showing a doctor's signature.