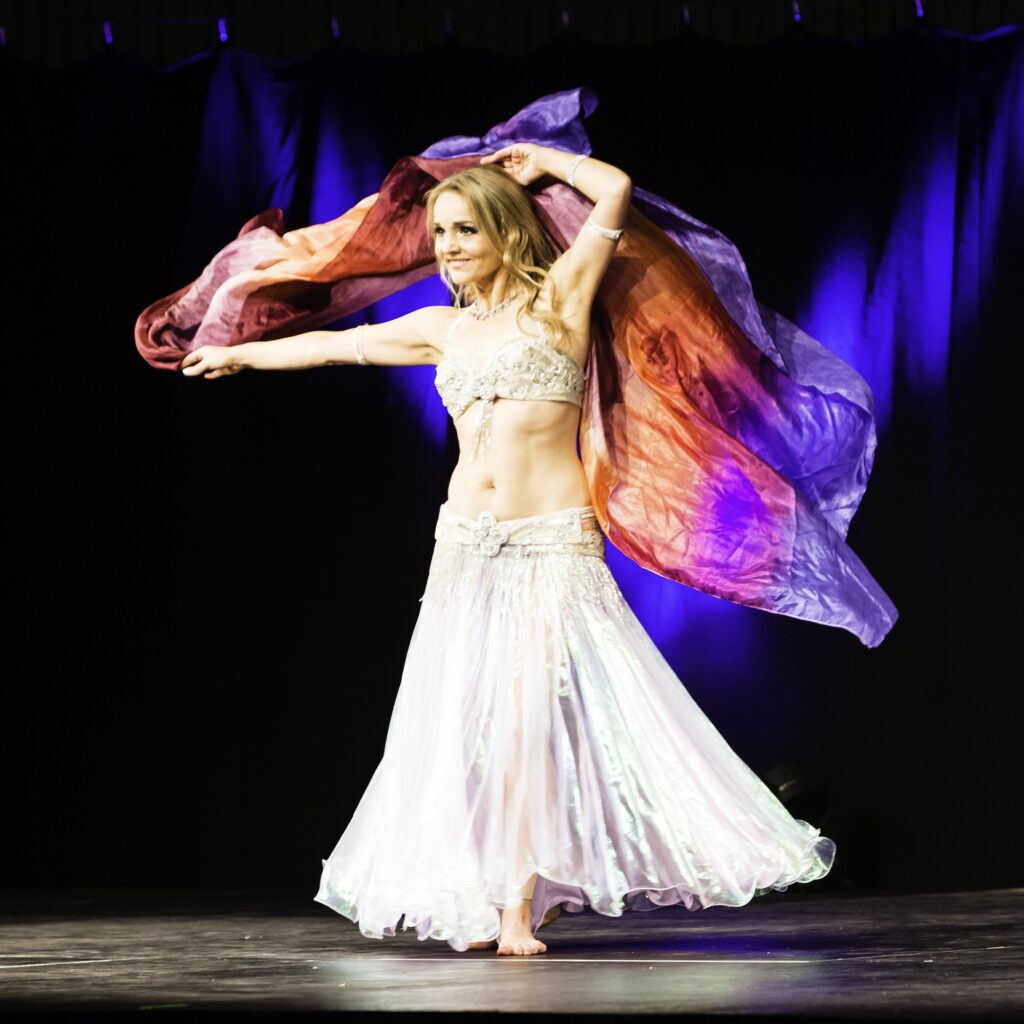 Annah is known for her energy and presence on stage, her musicality and her ability to connect with her audience. 
As a dancer, she receives many compliments both for her technique and her sense of dance, and for how she designs each show to lift the event and delight the audience.
As an instructor, she is often told that she is responsive, knowledgeable and inspiring and that her students learn a lot in a short time.
Fireflow Dance Studio and Annah strive to highlight Raqs Sharqi / Bellydance as respectfully and knowledgeably as possible, to spread information about the dance and its cultural context, and to support dancers, musicians and composers in the countries and cultures where the dance belongs.
Annah began classical ballet at the age of 3, and jazz and show dancing in her teens. In the early 90's she discovered belly dancing / Raqs Sharqi and quickly became engrossed. Both of the dance and of the Arabic music, which has become a crucial part of Annah's life.
During her early years, Annah studied with Danish Louise Frevert, then owner of Denmark's Mavedanserskole. After a couple of years she started performing as a dancer in the Malmö region and was frequently engaged in a variety of contexts. By then she had also started taking workshops and lessons for other teachers, including Raqia Hassan, Aida Nour and Zeina / Suzanne Petrén Abou Shebika.
During the 1990s Annah also worked as a dancer and instructor in Argentine tango and performed regularly as a tango dancer. In the late 1990s, however, she chose to focus on Oriental dance and had since 1996 begun teaching her own classes.
In 2011, after initially teaching through various study associations, Annah started her own company Fireflow Dance Studio. She gives courses and private lessons in Malmö and in her home studio in Ask outside Röstånga. She also regularly holds workshops both locally in the Malmö/Öresund region as well as in the rest of the Nordic region and internationally.
Specialisation, inspiration and education
Annah focuses mainly on Egyptian Raqs Sharki, Raqs Baladi and Egyptian folk styles. She continuously trains for high-level instructors. She has studied private / attended intensive courses for, among others, Aida Nour, Zeina, Marta Korzun and Jillina Carlano, and takes recurring workshops for mohamed Kazafy, Camelia of Cairo, Khaled Mahmoud, Tito Seif, Lubna Emam, Aida Nour and Raqia Hassan..
In addition to contemporary dancers, Annah is inspired by classic stars such as Fifi Abdou, Souhair Zaki, Tahia Carioca and Naemet Mokhtar. What she strives for in her dance and teaching is a flowing movement with inner energy and direction – hence the name "Fireflow".
Awards
– 1st prize in the Grand Diva category at Danish Open Bellydance 2018
– 1st prize in the Grand Diva category at Danish Open Bellydance 2017
– 1st prize and dancer of the year in the Oriental Professional / Semi Professional category, at Oslo Oriental Dance Festival 2016
– 1st prize and the title Dancer of the Year in the Category Stilart (covering different folk styles from the Middle East) at oslo oriental dance festival 2016
– 3rd prize in the online competition "Take me back to Cairo" with Raqia Hassan on the jury, in conjunction with From Cairo with Love Festival, Amsterdam 2015
– 1st prize in the Grand Diva category at Danish Open Bellydance 2014
– 2nd prize in the Grand Diva category at Danish Open Bellydance 2013
– 2nd prize in the group category with the group AlFayruz at Danish Open Bellydance 2019
Collaborations and arrangements
In parallel with solo performances and teaching, Annah has participated in several dance groups, since the 90s onwards: Magica, Ammam, Al-Delta, Raqs Qadira and others.
Annah has since the mid-90s been active as an organizer of dance shows and workshops, including for the non-profit association Zhagareet where she has been a member of the board since the association was founded in 1997. She has participated in several workshops with guest teachers from Egypt and other countries.
Annah / Fireflow has for several years (6 times) organized the Fireflow Festival in Malmö, with international stars Marta Korzun and Vanessa of Cairo as guest instructors.